Brand
HCP Audience
Monthly Circulation
VaccineHealthCenter
Immunologist, Family Doctor, Gynecologist, Pediatrician, General Surgeon, Cardiologist, Emergency Room Doctor, Nurses, Caregivers
226,563
Request Pricing
DiabetesHealthMatters
Endocrinologist, Bariatric, Cardiologist, Chiropractor, Cosmetic Surgeon, Geneticist, Gynecologist, Nephrologist, Oncologist, Nurses, Caregivers
150,058
Request Pricing
WeightHealthCenter
Bariatric Physician, Endocrinologist, Nutritionist, Family Doctor, Gynecologist, Chiropractor, Pediatrician, Orthopedic Surgeon, General Surgeon, Op...

Bariatric Physician, Endocrinologist, Nutritionist, Family Doctor, Gynecologist, Chiropractor, Pediatrician, Orthopedic Surgeon, General Surgeon, Optometrist, Cardiologist, Emergency Room Doctor, Cosmetic Surgeon, Ophthalmologist, Nurses, Caregivers

146,766
Request Pricing
AsthmaHealthCenter
Allergist, Immunologist, Pulmonologist, Family Doctor, Dentist, Gynecologist, Pediatrician, General Surgeon, Optometrist, Cardiologist, Emergency Ro...

Allergist, Immunologist, Pulmonologist, Family Doctor, Dentist, Gynecologist, Pediatrician, General Surgeon, Optometrist, Cardiologist, Emergency Room Doctor, Ophthalmologist, Oncologist, Pulmonologist, Naturopath, Nurses, Caregivers

109,643
Request Pricing
SeniorHealthCareMatters
Geriatric, Bariatric Physician, Endocrinologist, Nutritionist, Family Doctor, Gynecologist, Chiropractor, Orthopedic Surgeon, General Surgeon, Optom...

Geriatric, Bariatric Physician, Endocrinologist, Nutritionist, Family Doctor, Gynecologist, Chiropractor, Orthopedic Surgeon, General Surgeon, Optometrist, Cardiologist, Emergency Room Doctor, Cosmetic Surgeon, Ophthalmologist, Nurses, Caregivers

79,351
Request Pricing
MentalHealthHelpCenter
Psychiatrists, Family Doctor, Dentist, Gynecologist, Chiropractor, Pediatrician, Orthopedic Surgeon, General Surgeon, Optometrist, Cardiologist, Eme...

Psychiatrists, Family Doctor, Dentist, Gynecologist, Chiropractor, Pediatrician, Orthopedic Surgeon, General Surgeon, Optometrist, Cardiologist, Emergency Room Doctor, Cosmetic Surgeon, Ophthalmologist, Nurses, Caregivers

64,371
Request Pricing
WomensHealthCareCommunity
Family Doctor, Gynecologist, Chiropractor, Therapist, Pediatrician, Orthopedic Surgeon, General Surgeon, Optometrist, Cardiologist, Emergency Room D...

Family Doctor, Gynecologist, Chiropractor, Therapist, Pediatrician, Orthopedic Surgeon, General Surgeon, Optometrist, Cardiologist, Emergency Room Doctor, Cosmetic Surgeon, Ophthalmologist, Obstetrician, Nurses, Caregivers

43,593
Request Pricing
PediatricsHealthCenter
Pediatrician Physician, Nutritionist, Family Doctor, General Surgeon, Optometrist, Cardiologist, Emergency Room Doctor, Cosmetic Surgeon, Nurses, Ca...

Pediatrician Physician, Nutritionist, Family Doctor, General Surgeon, Optometrist, Cardiologist, Emergency Room Doctor, Cosmetic Surgeon, Nurses, Caregivers

43,444
Request Pricing
RareDiseasesHealthCenter
Allergist, Dermatologist, Pathologist, Pediatrician, Optometrist, Cardiologist, Emergency Room Doctor, Nurses, and many more
39,511
Request Pricing
CosmeticAndPlasticSurgeryCenter
Surgeons and related medical staff
38,232
Request Pricing
SkinCareHealthCenter
Dermatologist, Family Doctor, Gynecologist, Chiropractor, Pediatrician, General Surgeon, Emergency Room Doctor, Ophthalmologist, Oncologist, Nurses,...

Dermatologist, Family Doctor, Gynecologist, Chiropractor, Pediatrician, General Surgeon, Emergency Room Doctor, Ophthalmologist, Oncologist, Nurses, Caregivers

32,815
Request Pricing
BrainAndNerveCenter
Bariatric Physician, Endocrinologist, Nutritionist, Family Doctor, Geriatric, Gynecologist, Orthopedic Surgeon, General Surgeon, Optometrist, Cardio...

Bariatric Physician, Endocrinologist, Nutritionist, Family Doctor, Geriatric, Gynecologist, Orthopedic Surgeon, General Surgeon, Optometrist, Cardiologist, Emergency Room Doctor, Cosmetic Surgeon, Ophthalmologist, Nurses, Caregivers

32,093
Request Pricing
HeartAndStrokeHealth
Family Doctor, Dentist, Gynecologist, Pediatrician, Orthopedic Surgeon, General Surgeon, Cardiologist, Emergency Room Doctor, Nurses, Caregivers
27,901
Request Pricing
CancerHealthCenter
Family Doctor, Gynecologist, Pediatrician, Orthopedic Surgeon, General Surgeon, Cosmetic Surgeon, Ophthalmologist, Oncologist, Nurses, Caregivers
24,719
Request Pricing
VisionHealthMatters
Healthcare Professionals, Medical Students, Healthcare Facilities and Clinics
21,231
Request Pricing
DigestiveTractHealth
Gastroenterologist, Family Doctor, Gynecologist, Pediatrician, General Surgeon, Emergency Room Doctor, Nurses, Caregivers
13,801
Request Pricing
FightingAddictionCenter
Psychologist, Family Doctor, Therapist, Neurosurgeon, Sleep Doctor, Pediatrician, General Surgeon, Optometrist, Cardiologist, Emergency Room Doctor,...

Psychologist, Family Doctor, Therapist, Neurosurgeon, Sleep Doctor, Pediatrician, General Surgeon, Optometrist, Cardiologist, Emergency Room Doctor, Nurses, Caregivers

4,631
Request Pricing
PainHealthCenter
Osteopathy, Family Doctor, Dentist, Gynecologist, Chiropractor, Pediatrician, Orthopedic Surgeon, General Surgeon, Optometrist, Nurses, Caregivers
2,133
Request Pricing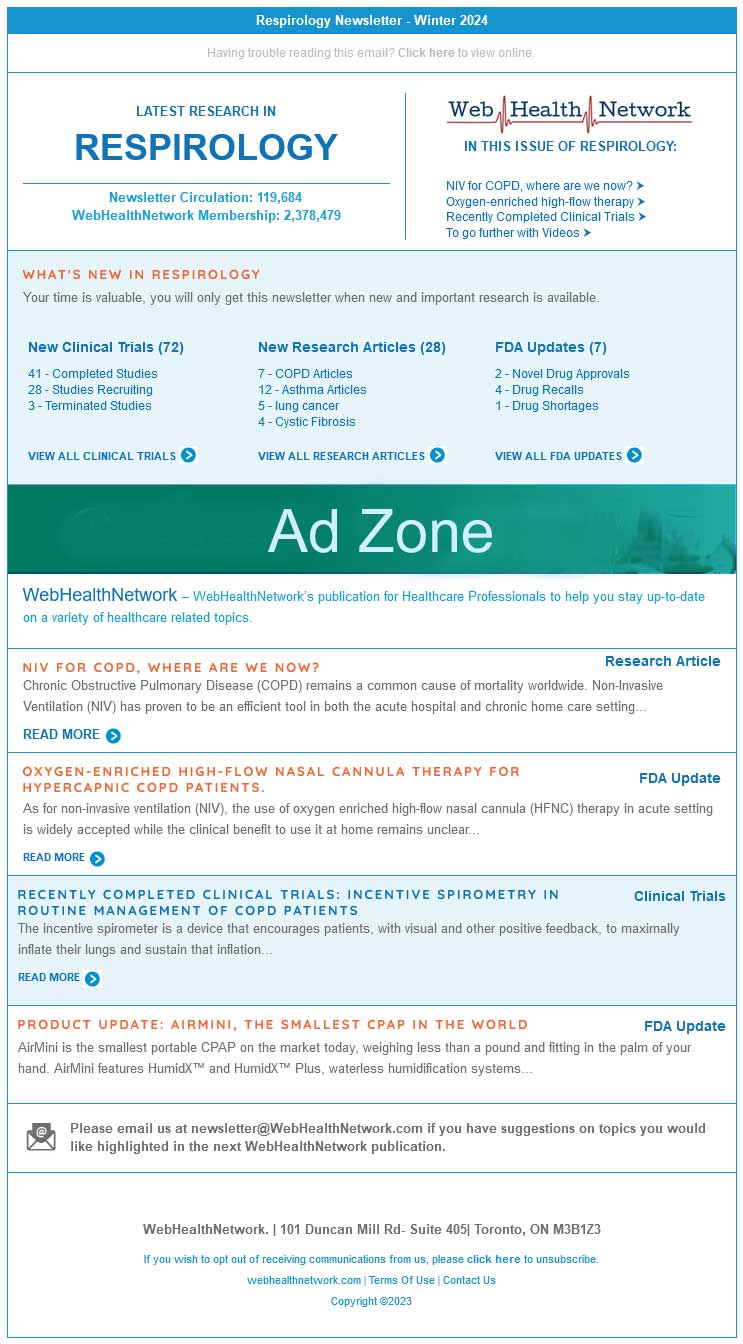 Sample
Features
---
Image Banners
Type: JPG, PNG, or GIF
Dimensions: 300x250 or 728x90
Landing Page URL
Text Banner
Title: 30 to 60 Characters
Description: 300-500 characters
Landing Page URL
Newsletter Service Package
Newsletter Deployment: Creatives must be supplied at least 5 business days before final deployment.
Newsletter Report: Includes summary information regarding the mailing, seed names, messages delivered, messages opened, clickthroughs
URL TRACKING (Clickthroughs): Tracks individual URLs that have been clicked on in your email message. Multiple URLs can be tracked in one email message.
TURNAROUND TIME: 3-5 days after receipt of creatives.